Online casino design concepts - a different take
With the online gaming constantly growing in the last few years, we quite often see tens and even hundreds of new casinos opening every month in the UK only, let alone the rest of Europe. The problem with so many online casino brands available for players is that most of them look practically identical with black, dark green or red backgrounds, similar menus and game selections. There is nothing really unique about them at all in most cases. In a saturated market of today, most of the time this kind of approach to design and concepts of online casinos will probably not bring that much business.
On the other hand, we also see the rise of more conceptual, unusual, daring and simply different, sometimes more niche casino brands. And that certainly gives up hope. In this short overview, we'll mention just a few of our favourite online casinos that stand out from the crowd. In this article, we will only talk about the design, but if you wish to find out more about these casinos, their offers, welcome bonuses and game portfolios, check out casinohawks.com for the full reviews.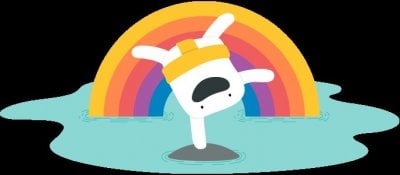 Casumo Casino
Let's take one very strong casino player on the market - Casumo Casino as an example. Instead of sticking to the safe and tested formulas, they made a decision to be different. And what might have seemed silly for some people at the beginning, ended up being quite successful. Here we have cute and fat Casumo characters, rainbows, unicorns and all sorts of colourful design elements that are all there to"erase the boredom". Casumo even releases its own comic strips. We're in!
Mr Green Casino
Another market veteran Mr Green casino and its success have proven that a bit of different thinking and effort can bring some amazing results. The casino is built around the mysterious Mr Green, who's always wearing a suit and a hat, covering his face and offering his players loads of special offers. Mr Green participates in every marketing campaign, and we really appreciate the design team efforts that go into creating every single banner at Mr Green Casino. 
Rizk Casino 
Rizk might have taken some inspiration from Mr Green, but it also created a casino with the main character Captain Rizk and his dog Lucky. Both of them are cool and generous, and all the time run some interesting tournaments and promotions for the players. Using red and yellow bold colours and the Superhero theme, Rizk casino stands out from the crowd and makes great efforts with their copywriting, which is always a plus.
Ikibu Casino
One of the newcomers on the market, Ikibu Casino is based around the Japanese Adventure theme. Ikibu is not just a casino; it is presented as a remote imaginary island populated with Ikkis, who look a bit like monkeys. Players are encouraged to take part in a lot of tournaments, discover new territories, fight with various Ikki tribes and earn seeds which are a local casino currency, which can be exchanged for more free spins. 
Royal Panda Casino
Royal Panda Casino has been around for a while, and they have a fair share of players, and one of the reasons for that is because they were not afraid to choose a cute furry panda with a crown on its head as the casino mascot. Everyone loves pandas so we can understand the attraction. While being quite cartoonish and maybe childish, this casino actually has a very decent game selection and generous promotions as well.
Kaboo Casino
Kaboo opened in 2014 and decided to create a parallel universe of a casino that would satisfy the desires of hard-core video gamers. It has a dark, heavy theme with loads of black and dark green colours and a strong sci-fi, cosmic, fantasy feel to it. This is not your average cheerful and colourful casino, but the niche darkness seems to have worked for them pretty well.
---
Other posts